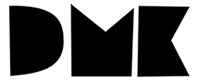 DMK are a Depeche Mode family tribute band formed in 2010 in Bogotá, Colombia, by Dicken Schrader, his daughter Milah Schrader and his son Korben Schrader. The band became an internet sensation in early 2012, following the release of their third cover video, "Everything Counts." 
Since their viral success, DMK have been invited to perform in front of live audiences in Colombia, New York, Texas, Spain, Poland and Germany.
 DMK have been nominated for "Favorite Web Personality" at the 2015 Nickelodeon Kids' Choice Awards Colombia, featured in MTV Iggy's "10 Colombian bands on the rise" article and in Ultimate Guitar´s list of 10 weirdest cover bands, and their remake of "Everything Counts" has been noted by The Atlantic as one of the most transformative cover songs and by Electronic Beats as one of the ten best Depeche Mode covers ever made. The band was also one of Martin Gore's personal favorite entries from the Depeche Mode Facebook page Takeover campaign.
DMK are featured in the film "Depeche Mode: Spirits In The Forest," directed by Anton Corbijn.
On February 26th, 2022 DMK announced that the band is going into permanent hiatus.